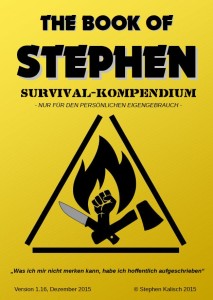 The Book of Stephen ist ein Nachschlagewerk das all die wichtigen Dinge beinhaltet, die man gerne mal vergisst im Bereich Bushcraft, Survival, Natur, Pflanzen ec.
Ein Buch ohne Geschnörkel und Drumherum – reduziert auf wichtige Informationen unterteilt in Kategorien.
TBoS ist nicht öffentlich erhältlich da es im Aufbau ist. Exklusive Einblicke gibt es hier oder in der gleichnamigen Facebook-Gruppe SURVIVE YOURSELF.
Format: PDF, DIN A5, farbig
Seiten: 110